What is PLA filament?
When talking about low-cost 3d printer filament, the first thing that comes into mind will be PLA (Polylactic Acid) filament. Although cost little, PLA can be widely used to print prototype parts and products that don't have high demands on hardness and thermostability.
Flashforge PLA filament is one of the most cost-effective PLA materials, meeting 3d print requirements of beginners and experts working on simple projects. It proves to print at minimum layer thickness with refined details and outstanding quality, printing specs as following:
RoHS certified;

Nozzle temperature requirement: 190-220°C;

Build plate temperature requirement: non-essential;

Outstanding diameter accuracy +/- 0.02mm;

Smoothen filament extrusion;

Ultra-pure grade material & strict quality control standards to guarantee print quality;

Minimal filament warping, curling, shrinkage, and bubbles during 3d printing process;

Compatible with most FDM 3D Printers, perfect for Flashforge Adventurer 3, Finder, and Dreamer series 3D printers.

Permits longer storage time without any compromise on filament quality;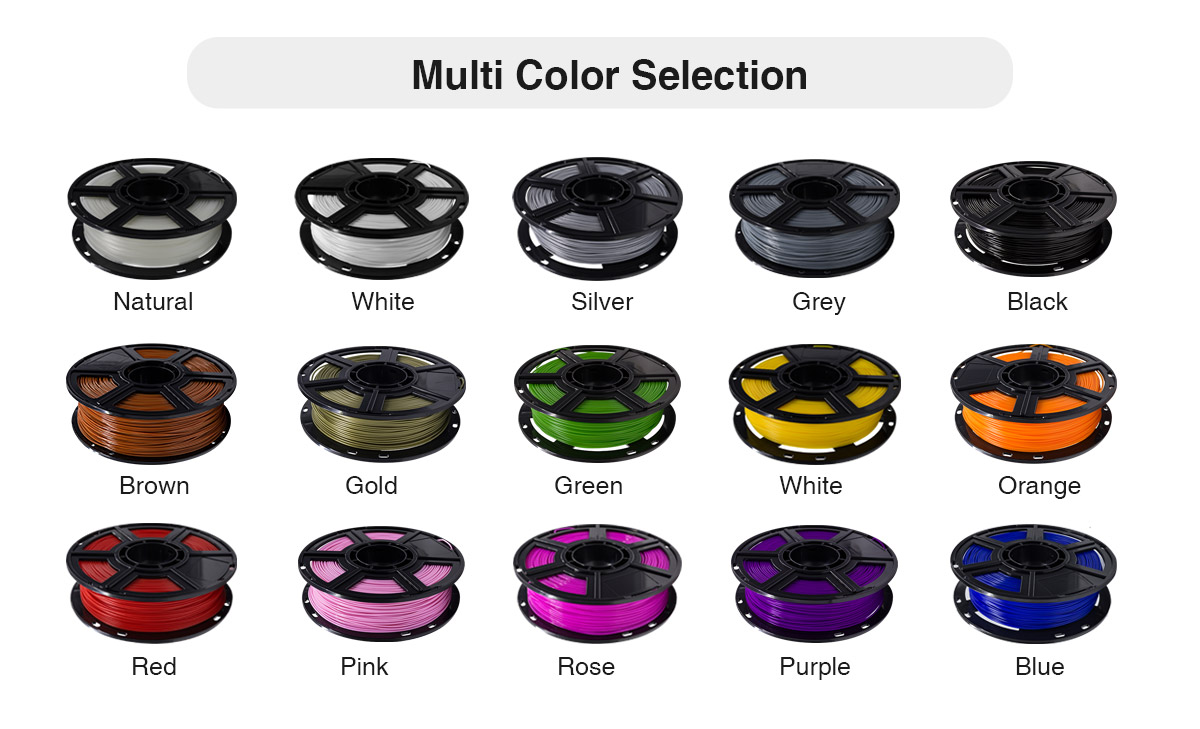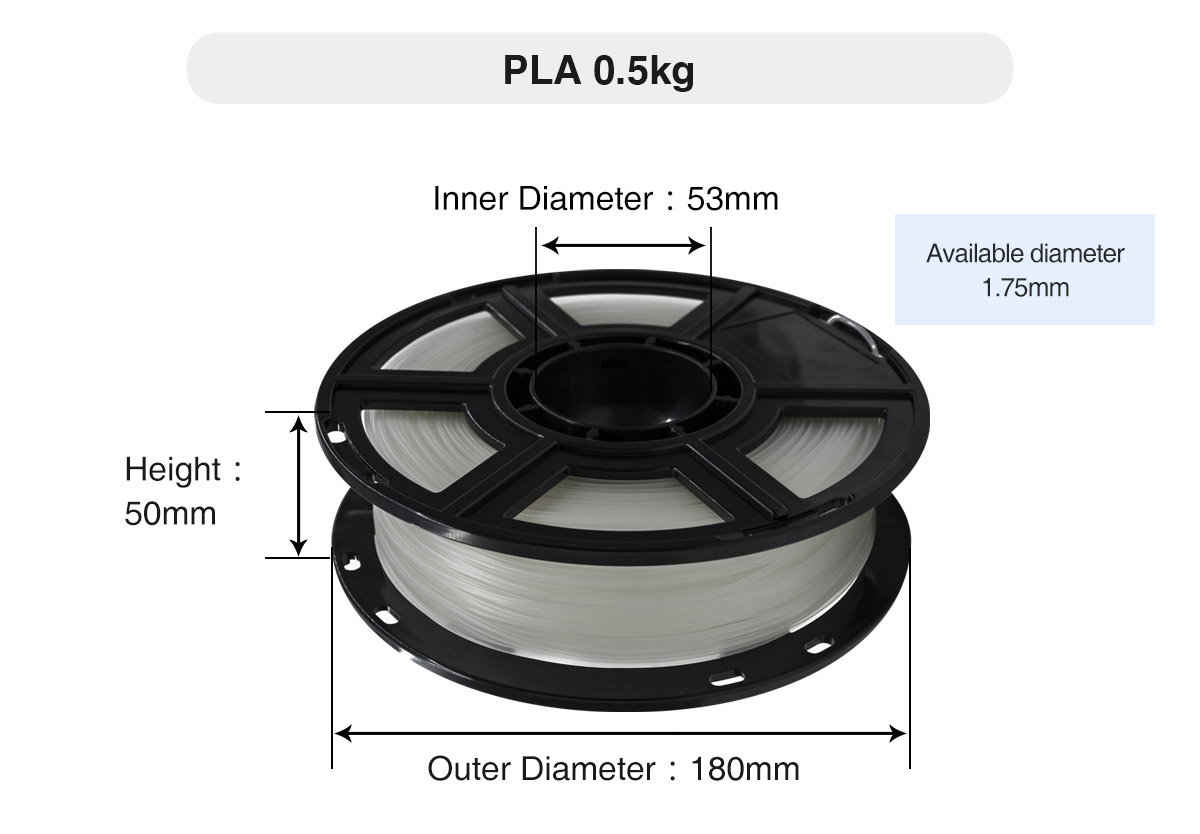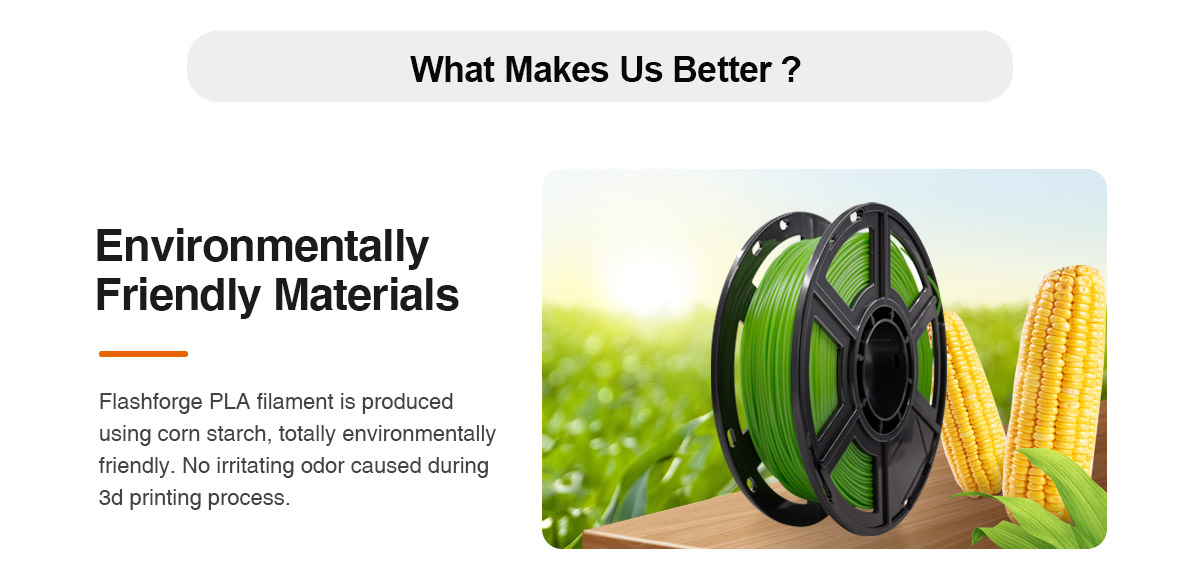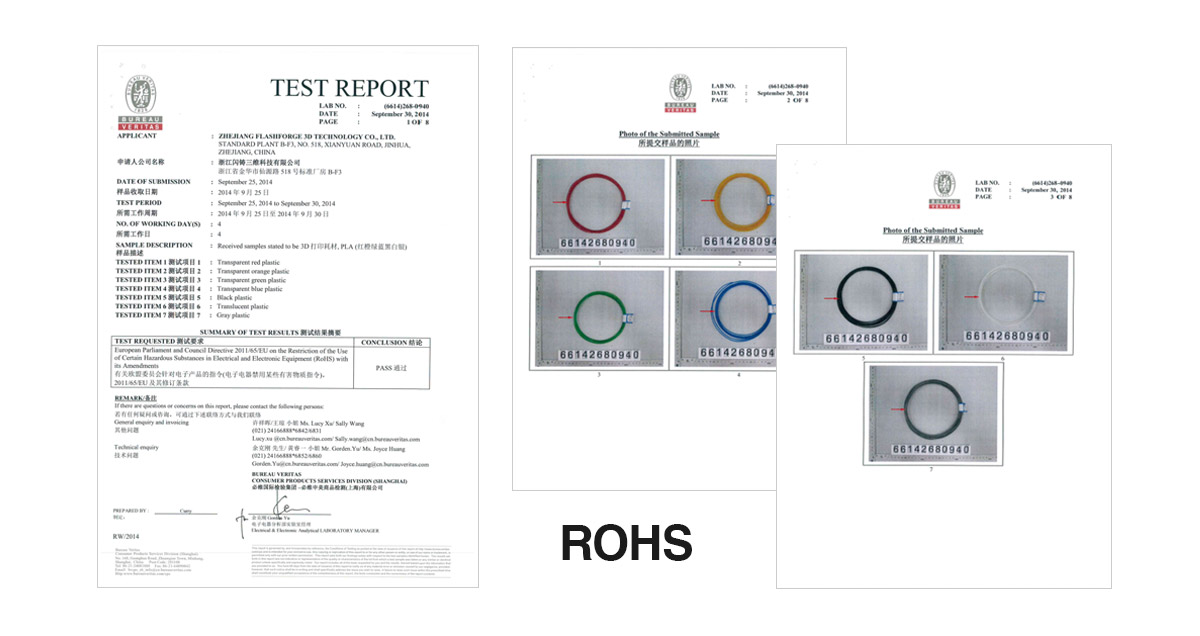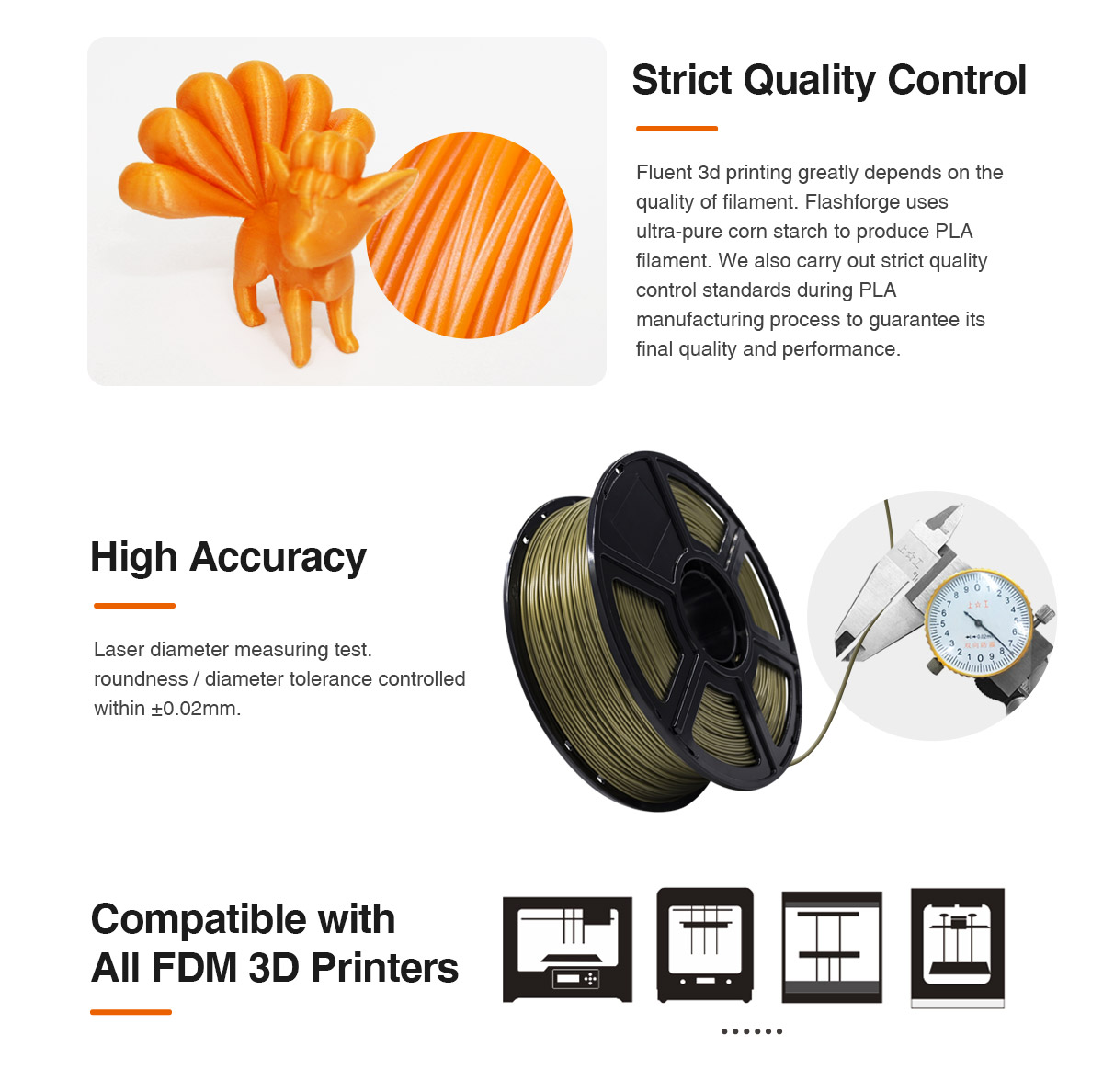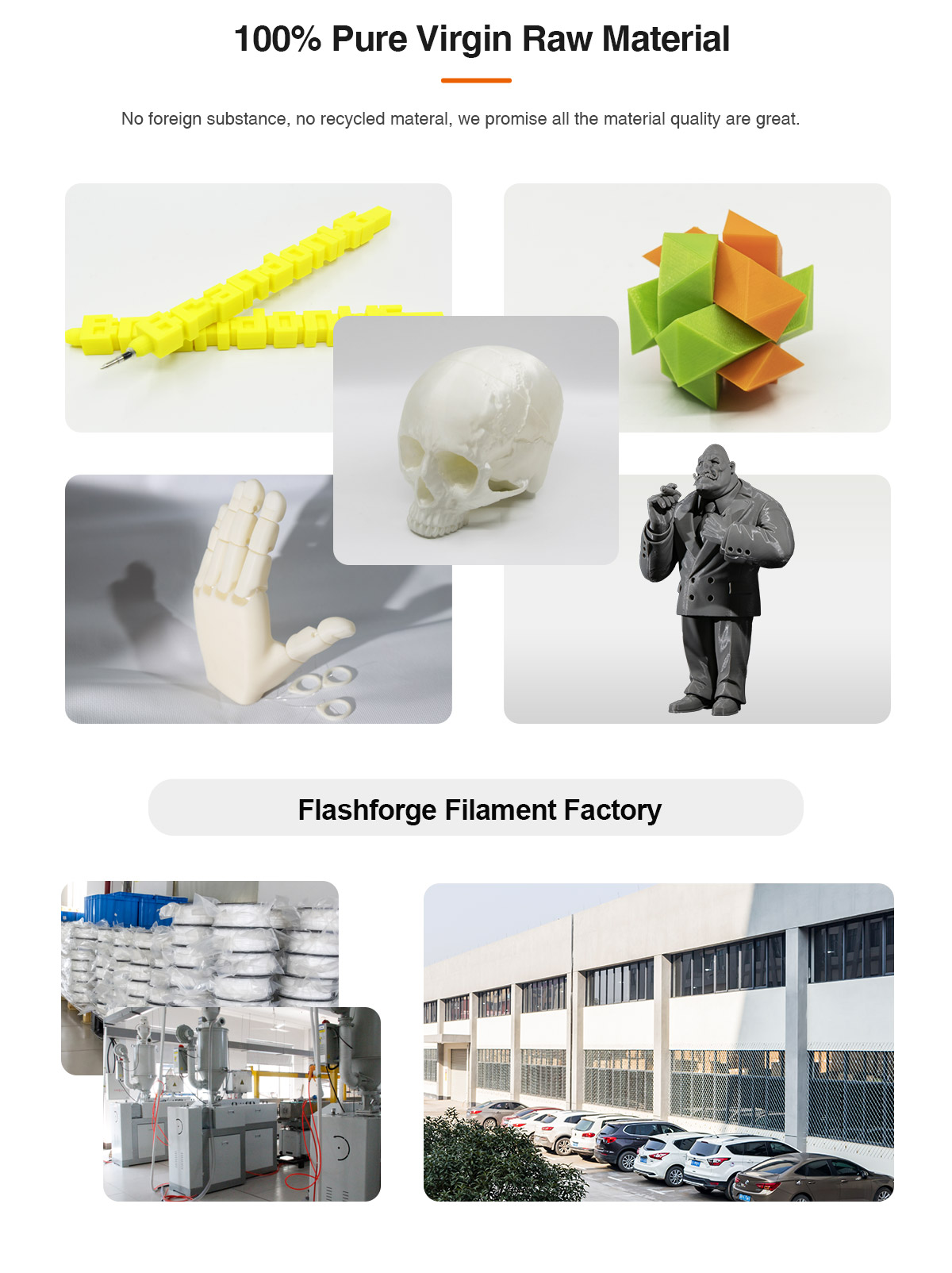 Tech Specifications
| | |
| --- | --- |
| Spool Diameter | 180 mm [7.1 in] |
| Spool Hub Hole | 20 mm [0.8 in] |
| Spool Width | 76 mm [3.0 in] |
| Filament Diameter | 1.75 mm |
| Shipping Weight | 0.9 KG (2.0lbs) |
| Net Weight | 0.5 KG (1.1lbs) |
Comparison between Flashforge PLA, PLA Pro, PLA-CF, ABS, ABS Pro, PETG, PETG Pro, PETG-CF.
| Spec & Print Setting | PLA | PLA Pro | PLA-CF10 | ABS | ABS Pro | PETG | PETG PRO | PETG-CF10 |
| --- | --- | --- | --- | --- | --- | --- | --- | --- |
| Tensile Strength (MPa) | 45-49 | 45.5-49 | 40-45 | ≥43 | ≥53 | 40-45 | 35-40 | 40-43 |
| Flexural Strength (MPa) | 69-75 | 73-76 | 85-95 | | | 50-55 | 45-50 | 75-85 |
| Modulus of Elasticity (MPa) | 1000-1100 | 950-1050 | 1100-1300 | | | 1000-1100 | 1100-1200 | 2100-2400 |
| Elongation @ Break (%) | 13.5-15.5 | 14.5-16.5 | 11.5-13.5 | ≥10 | ≥20 | 6.0-8.0 | 6.0-8.0 | 7.5-8.5 |
| Heat Deflection Temp (oC) | 53 | 53 | 60 | 88℃ | 88℃ | 74 | 68 | 70 |
| Nozzle Temp (℃) | 200-220 | 190-210 | 200-230 | 230-250 | 230-250 | 240-250 | 220-240 | 230-250 |
| Bed Temp (℃) | 50-55 | 50-55 | 40-50 | 100-110 | 100-110 | 80-90 | 70-80 | 60-80 |
| Printable with Glass Plate | YES | YES | ! (with glue stick) | ! (with glue stick) | ! (with glue stick) | YES | YES | ! (with glue stick) |
| Printable with PEI Sheet | YES | YES | / | ! (with glue stick) | ! (with glue stick) | YES | YES | / |
| Print in Enclosed Chamber | / | / | / | YES (recommend) | YES (recommend) | / | / | / |
| Print with Hardened Nozzle | / | / | YES | / | / | / | / | YES |
| Dryer Box | / | / | YES | / | / | / | / | YES |
Flashforge Filaments Key Features
| Key Features | PLA | PLA Pro | PLA-CF10 | ABS | ABS Pro | PETG | PETG PRO | PETG-CF10 |
| --- | --- | --- | --- | --- | --- | --- | --- | --- |
| Filament Type | Standard | Standard | Carbon fiber filament | Standard | Standard | Standard | Standard | Carbon fiber filament |
| Food Safe | YES | YES | / | / | / | YES | YES | / |
| Low Warping | YES | YES | YES | / | / | YES | YES | YES |
| High Tenacity | YES | YES | YES | / | / | YES | YES | YES |
| Dissolvable | / | / | / | YES | YES | / | / | / |
| Chemical Resistance | / | / | / | / | / | YES | YES | / |