What is PLA Filament?
PLA (Polylactic Acid) filament is the go-to 3d print material for beginners as it's low cost, easy to work with, minimal harm for misoperation, etc.
Flashforge PLA filament works properly even without a heated bed, while ABS filament demands an 80-110°C high-temperature platform. First-timers no need to worry about searing hands by touching the build platform accidentally. Filament properties are as following:
RoHS certified;

Nozzle temperature requirement: 190-220°C;

Build plate temperature requirement: non-essential;

Outstanding diameter accuracy +/- 0.02mm;

Smoothen filament extrusion;

Minimal filament warping, curling, shrinkage and bubbles during 3d printing process;

Compatible with most FDM 3D Printers, perfect for Flashforge Adventurer 3, Finder and Dreamer series 3D printers.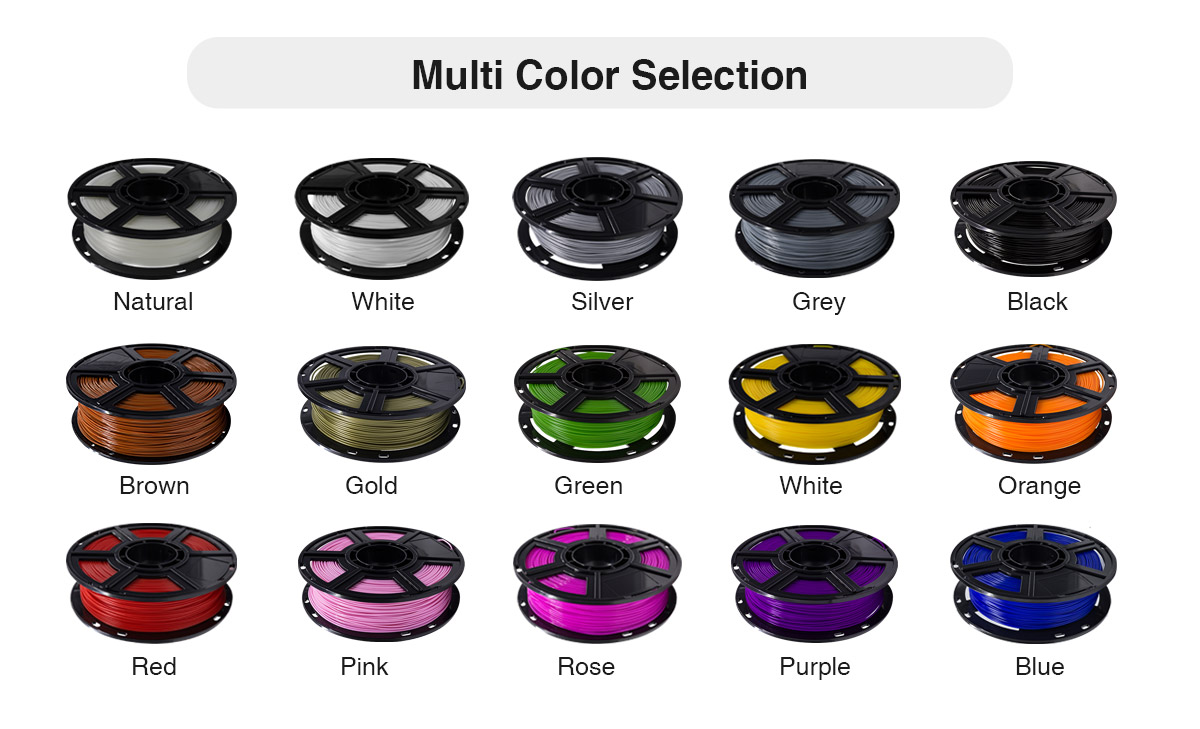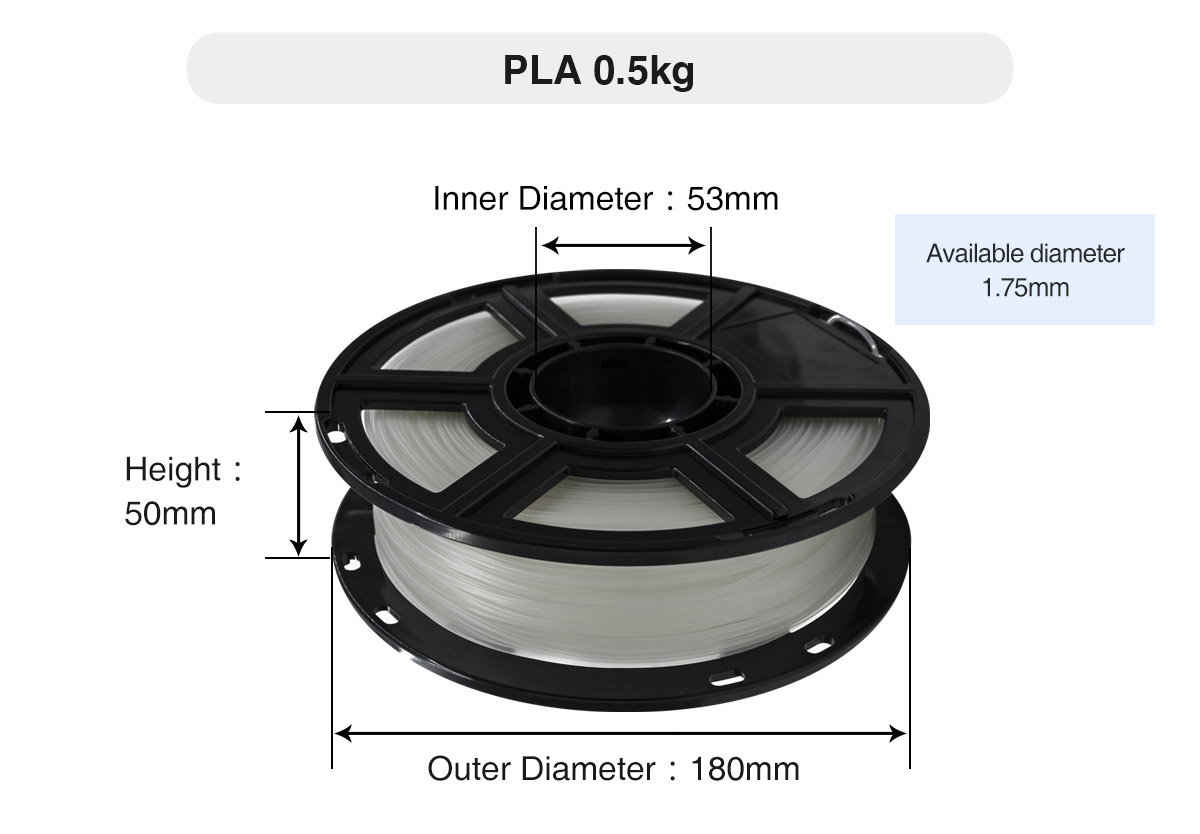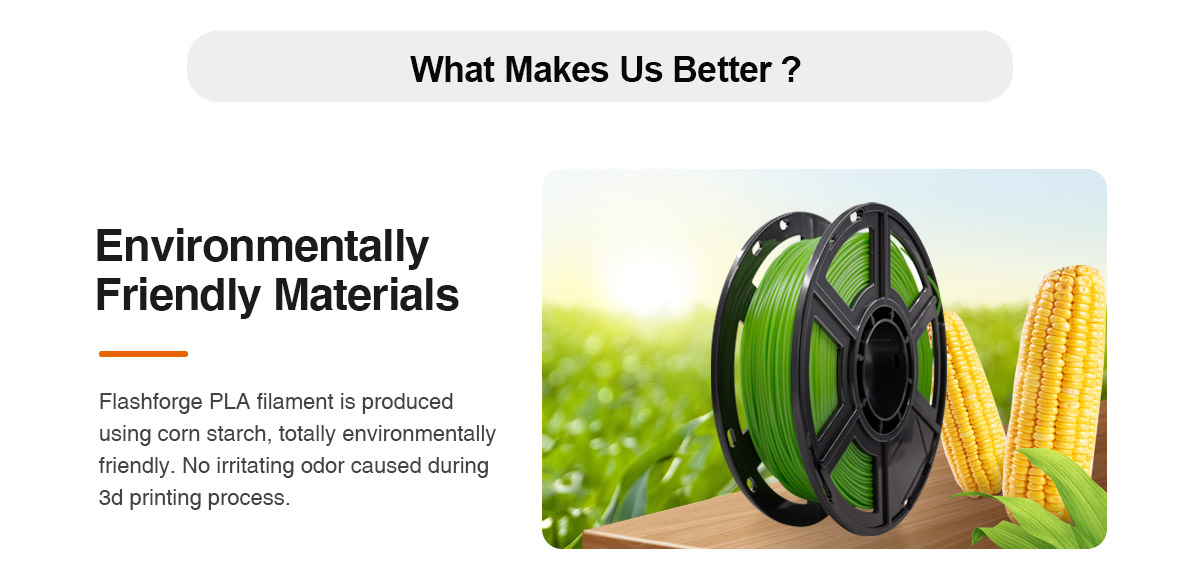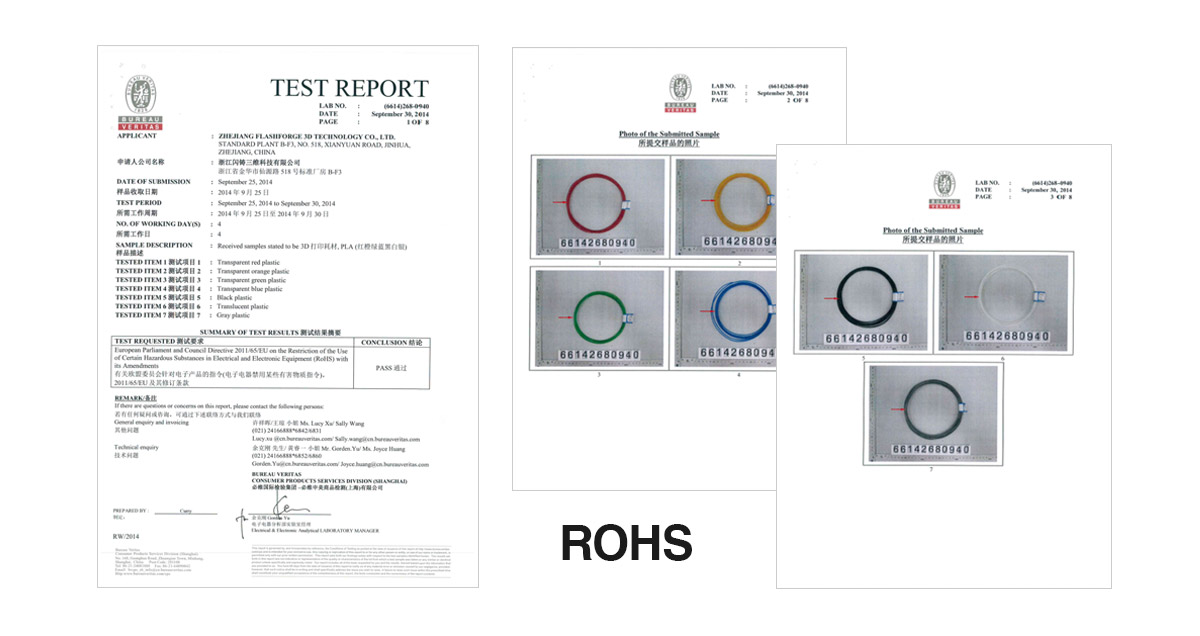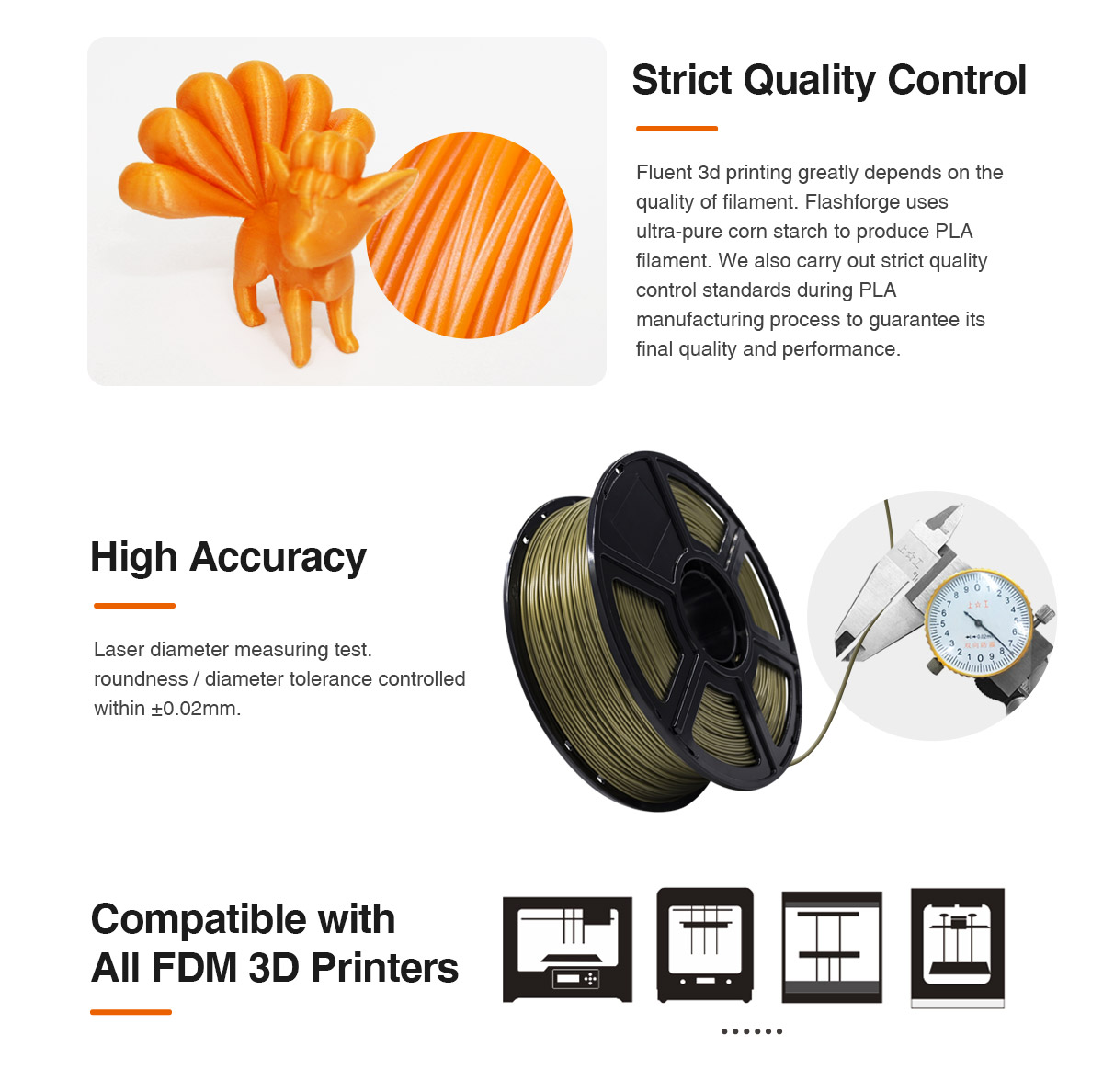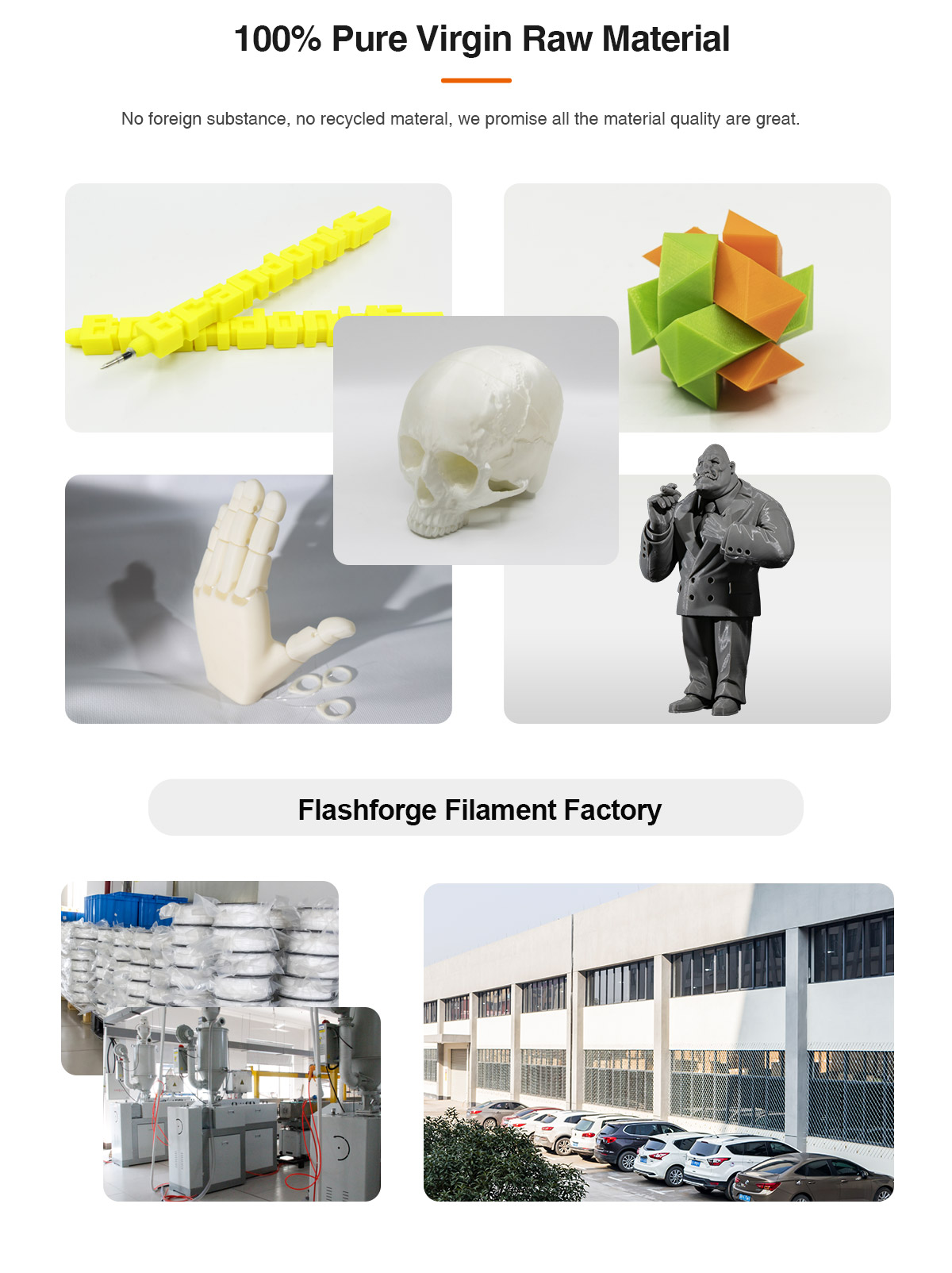 Tech Specifications
| | |
| --- | --- |
| Spool Diameter | 180 mm [7.1 in] |
| Spool Hub Hole | 20 mm [0.8 in] |
| Spool Width | 76 mm [3.0 in] |
| Filament Diameter | 1.75 mm |
| Shipping Weight | 0.9 KG (2.0lbs) |
| Net Weight | 0.5 KG (1.1lbs) |
Comparison between Flashforge PLA, PLA Pro, PLA-CF, ABS, ABS Pro, PETG, PETG Pro, PETG-CF.
| Spec & Print Setting | PLA | PLA Pro | PLA-CF10 | ABS | ABS Pro | PETG | PETG PRO | PETG-CF10 |
| --- | --- | --- | --- | --- | --- | --- | --- | --- |
| Tensile Strength (MPa) | 45-49 | 45.5-49 | 40-45 | ≥43 | ≥53 | 40-45 | 35-40 | 40-43 |
| Flexural Strength (MPa) | 69-75 | 73-76 | 85-95 | | | 50-55 | 45-50 | 75-85 |
| Modulus of Elasticity (MPa) | 1000-1100 | 950-1050 | 1100-1300 | | | 1000-1100 | 1100-1200 | 2100-2400 |
| Elongation @ Break (%) | 13.5-15.5 | 14.5-16.5 | 11.5-13.5 | ≥10 | ≥20 | 6.0-8.0 | 6.0-8.0 | 7.5-8.5 |
| Heat Deflection Temp (oC) | 53 | 53 | 60 | 88℃ | 88℃ | 74 | 68 | 70 |
| Nozzle Temp (℃) | 200-220 | 190-210 | 200-230 | 230-250 | 230-250 | 240-250 | 220-240 | 230-250 |
| Bed Temp (℃) | 50-55 | 50-55 | 40-50 | 100-110 | 100-110 | 80-90 | 70-80 | 60-80 |
| Printable with Glass Plate | YES | YES | ! (with glue stick) | ! (with glue stick) | ! (with glue stick) | YES | YES | ! (with glue stick) |
| Printable with PEI Sheet | YES | YES | / | ! (with glue stick) | ! (with glue stick) | YES | YES | / |
| Print in Enclosed Chamber | / | / | / | YES (recommend) | YES (recommend) | / | / | / |
| Print with Hardened Nozzle | / | / | YES | / | / | / | / | YES |
| Dryer Box | / | / | YES | / | / | / | / | YES |
Flashforge Filaments Key Features
| Key Features | PLA | PLA Pro | PLA-CF10 | ABS | ABS Pro | PETG | PETG PRO | PETG-CF10 |
| --- | --- | --- | --- | --- | --- | --- | --- | --- |
| Filament Type | Standard | Standard | Carbon fiber filament | Standard | Standard | Standard | Standard | Carbon fiber filament |
| Food Safe | YES | YES | / | / | / | YES | YES | / |
| Low Warping | YES | YES | YES | / | / | YES | YES | YES |
| High Tenacity | YES | YES | YES | / | / | YES | YES | YES |
| Dissolvable | / | / | / | YES | YES | / | / | / |
| Chemical Resistance | / | / | / | / | / | YES | YES | / |