PLA Pro filament is a strengthening version of PLA filament with many superior features. With an upgraded formula, PLA Pro filaments are tangle-free, clog-free, and bubble-free compared to regular PLA filaments. It ensures seamless PLA 3D printing with a smooth surface, less tangle, no jamming, no warping while keeping the machine running consistently.
Standard PLA 3D Printer filament, compatible with most 3D printers in the market.
Neat winding: no clogging, higher print efficiency.
Strict accuracy: diameter tolerance +/-0.02mm, no bubbles.
Multi-color options: make bright color pop in your next 3d designs.
Tips:
Adventurer 3 series, Finder 2, Dreamer series can print 1kg filament spool as long as place the filament outer from the printer by using a filament spool holder. Send the email to service01@flashforge.com to get the spool holder sliced file!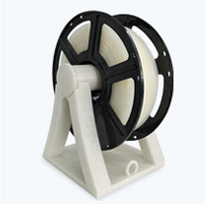 For parameter of PLA Pro filament for Flashforge 3d printers, please refer to this page.