What makes Flashforge PLA Filaments Different?
Flashforge upgraded its filament formulation to minimize filament problems such as warping, curling, and bubbles during the printing. The upgrade also permits longer storage time without any compromise on filament quality. Clear pla filament, is a hot sale color choice. Make the best use of your Flashforge filament!
Flashforge uses ultra-pure grade material and manufactures filaments in a dust-free workshop where strict quality control standards are followed. Without dust and foreign particles occur during production, our PLA filament printing is extremely fluent and quick. Additionally, we check every roll of PLA filament to guarantee the dimensional accuracy is within +/- 0.02mm. Consistent printing is guaranteed!
Tips:
Adventurer 3 series, Finder, Dreamer series can print 1kg filament spool as long as place the filament outer from the printer by using a filament spool holder. Send the email to
service01@flashforge.com
to get the spool holder sliced file!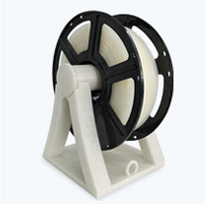 For Flashforge Transparent PLA Standard Filament spec, please refer to this page.