What is Transparent PLA Filament?
3D Printing beginners may take transparent PLA filament for transparent 3D printing, which is inaccurate. Transparent 3D printing refers to 3D printed objects of different degrees of translucency, which may be achieved through many factors including 3d filament selection, 3D printing technology, 3D printing settings, post-production treatment, etc. Transparent PLA filaments usually possess a light yellowish tone as they are manufactured by corn starch, it has a crystal look than colored PLA filaments.
Flashforge Transparent PLA Filament Properties:
RoHS certified;

Nozzle temperature requirement: 190-220°C;

Build plate temperature requirement: non-essential;

Outstanding diameter accuracy +/- 0.02mm;

Smoothen filament extrusion;

Ultra-pure grade material & strict quality control standards to guarantee print quality;

Minimal filament warping, curling, shrinkage, and bubbles during 3d printing process;

Compatible with most FDM 3D Printers, perfect for Flashforge Adventurer 3, Finder, and Dreamer series 3D printers.

Permits longer storage time without any compromise on filament quality;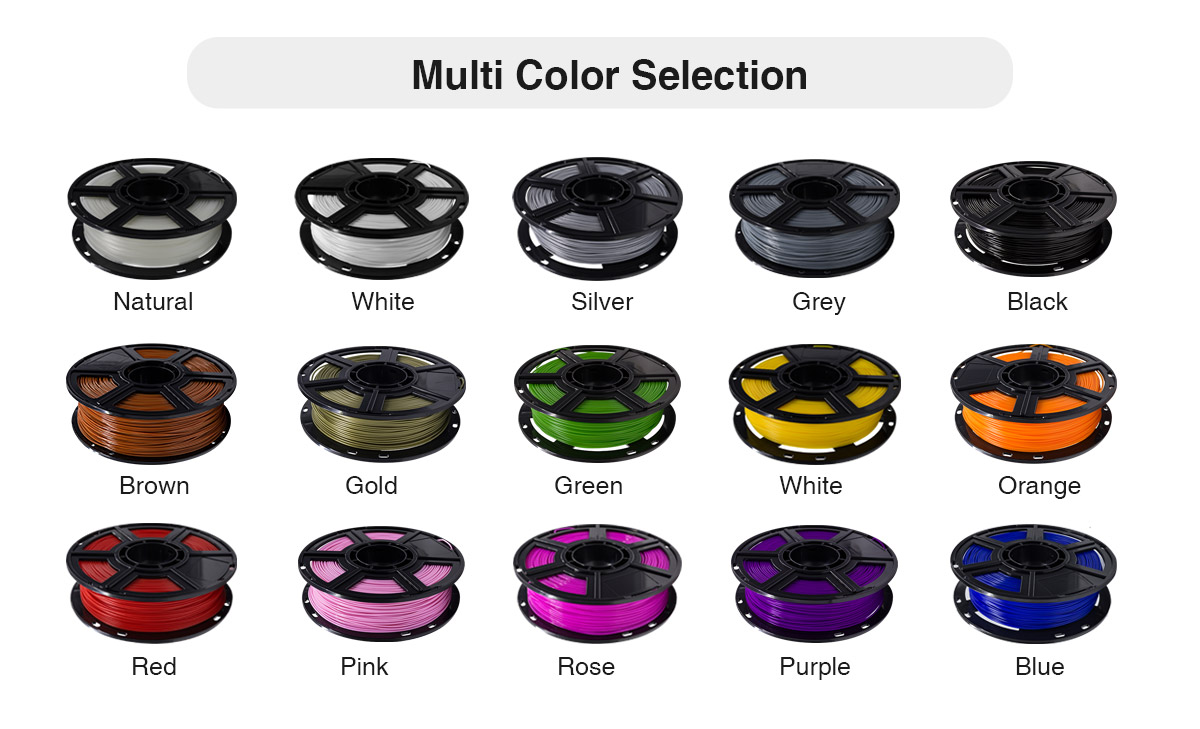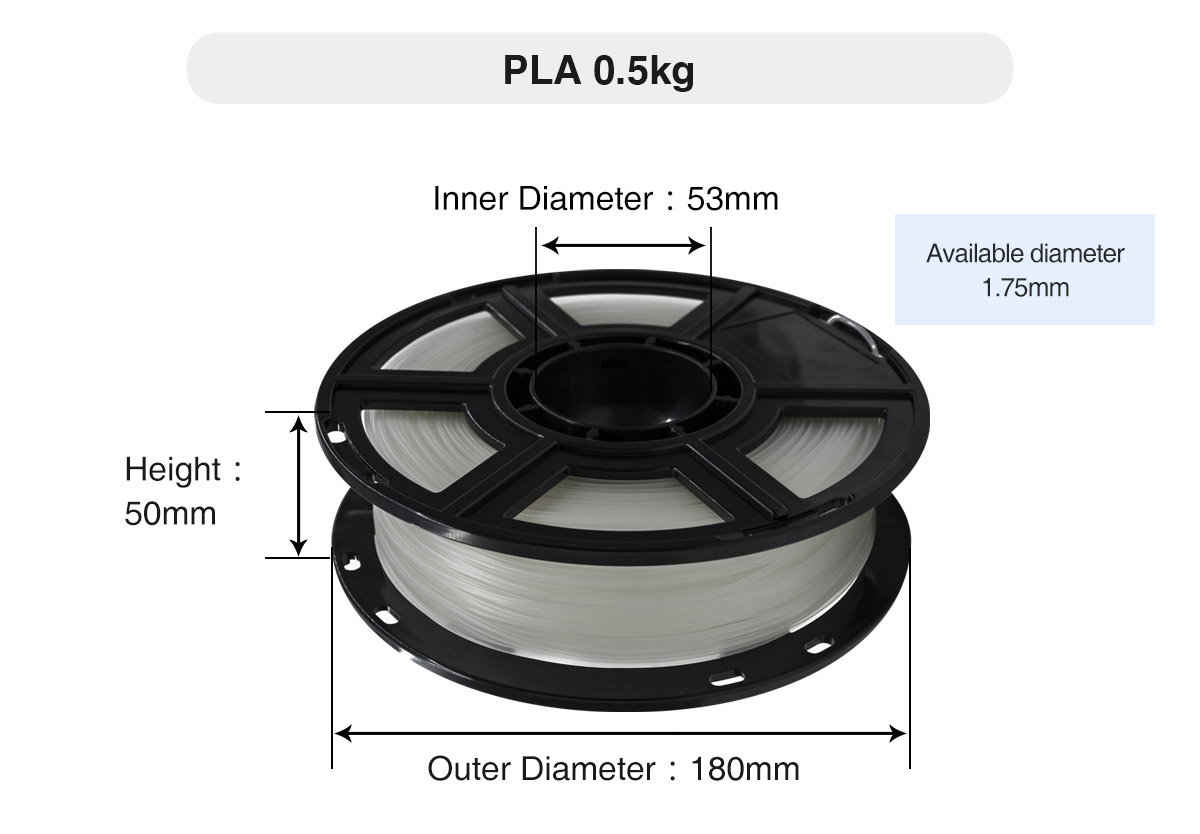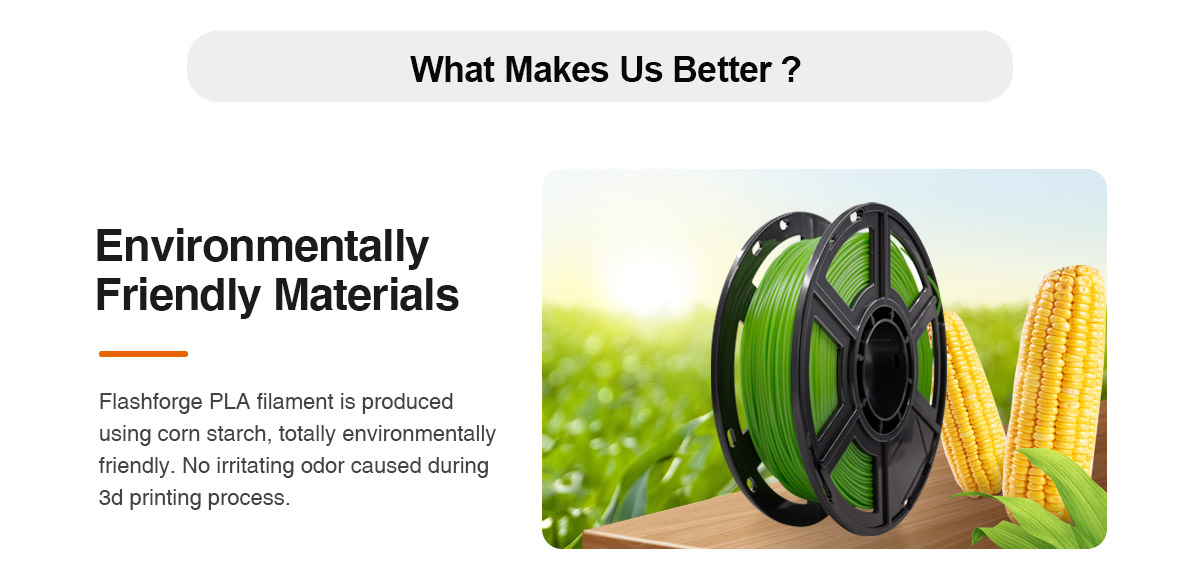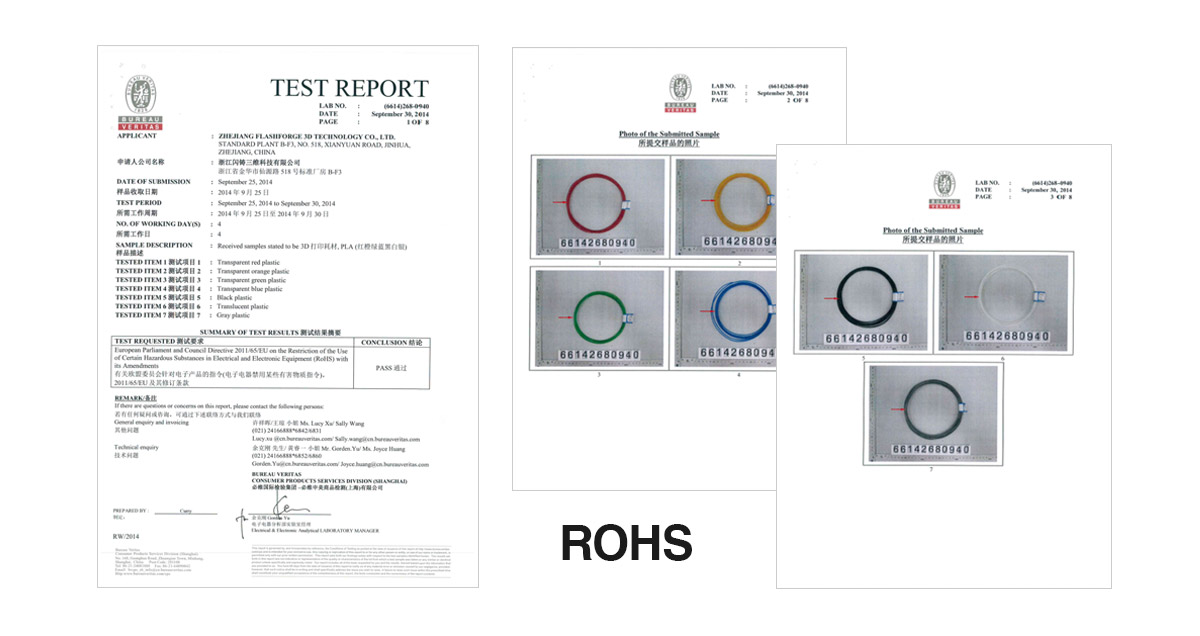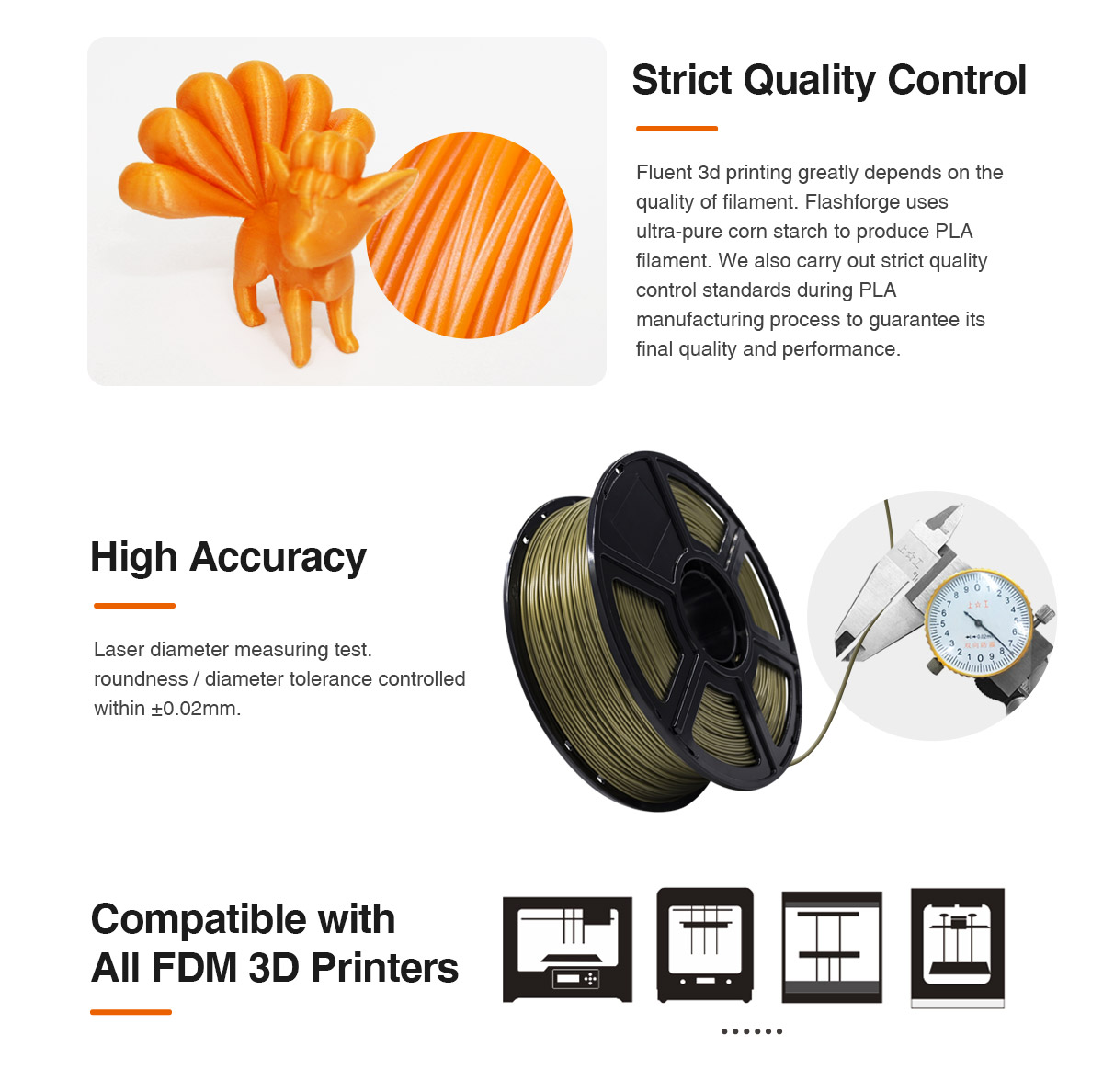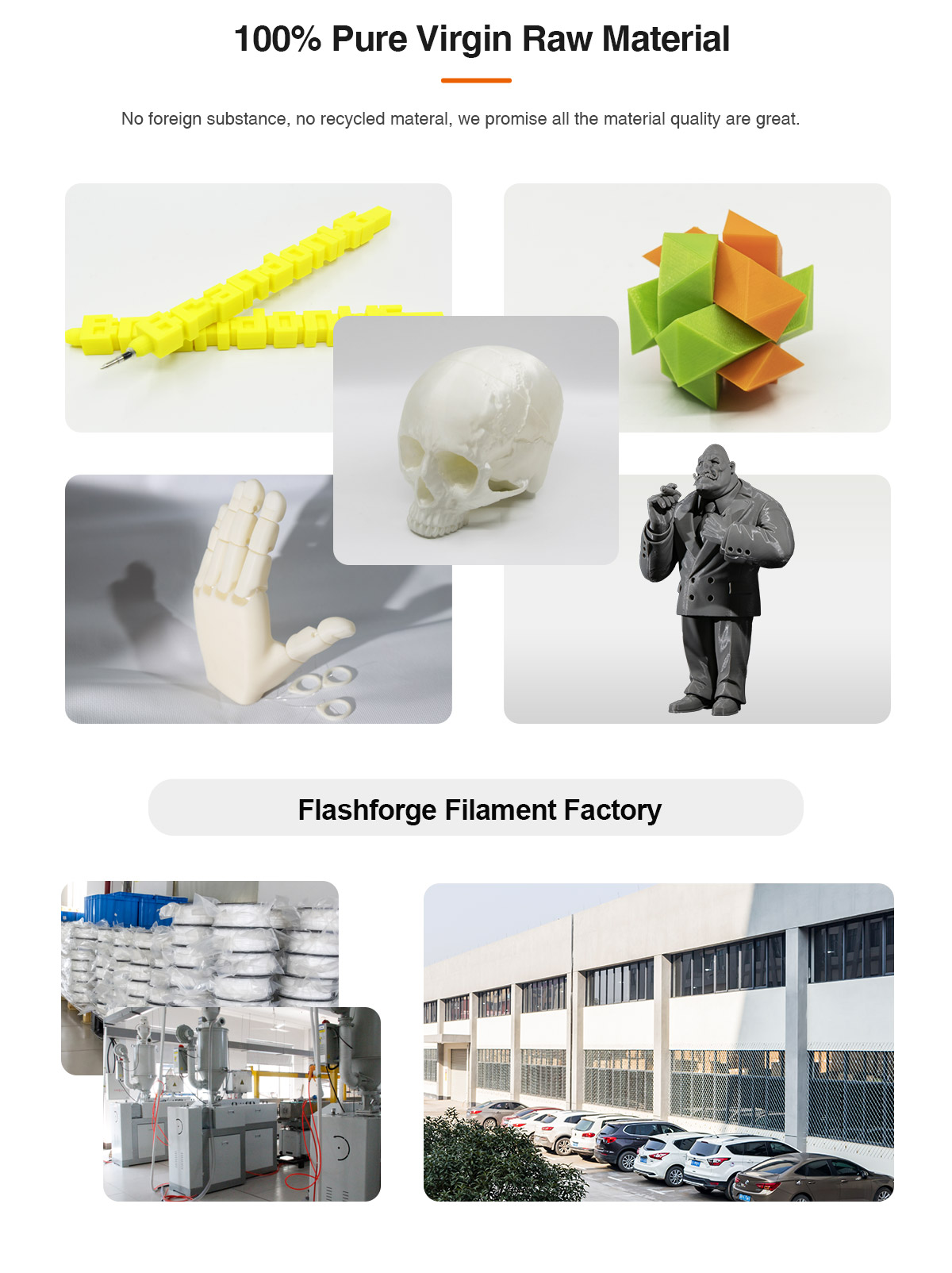 Tech Specifications
| | |
| --- | --- |
| Spool Diameter | 180 mm [7.1 in] |
| Spool Hub Hole | 20 mm [0.8 in] |
| Spool Width | 76 mm [3.0 in] |
| Filament Diameter | 1.75 mm |
| Shipping Weight | 0.9 KG (2.0lbs) |
| Net Weight | 0.5 KG (1.1lbs) |
Comparison between Flashforge PLA, PLA Pro, PLA-CF, ABS, ABS Pro, PETG, PETG Pro, PETG-CF.
| Spec & Print Setting | PLA | PLA Pro | PLA-CF10 | ABS | ABS Pro | PETG | PETG PRO | PETG-CF10 |
| --- | --- | --- | --- | --- | --- | --- | --- | --- |
| Tensile Strength (MPa) | 45-49 | 45.5-49 | 40-45 | ≥43 | ≥53 | 40-45 | 35-40 | 40-43 |
| Flexural Strength (MPa) | 69-75 | 73-76 | 85-95 | | | 50-55 | 45-50 | 75-85 |
| Modulus of Elasticity (MPa) | 1000-1100 | 950-1050 | 1100-1300 | | | 1000-1100 | 1100-1200 | 2100-2400 |
| Elongation @ Break (%) | 13.5-15.5 | 14.5-16.5 | 11.5-13.5 | ≥10 | ≥20 | 6.0-8.0 | 6.0-8.0 | 7.5-8.5 |
| Heat Deflection Temp (oC) | 53 | 53 | 60 | 88℃ | 88℃ | 74 | 68 | 70 |
| Nozzle Temp (℃) | 200-220 | 190-210 | 200-230 | 230-250 | 230-250 | 240-250 | 220-240 | 230-250 |
| Bed Temp (℃) | 50-55 | 50-55 | 40-50 | 100-110 | 100-110 | 80-90 | 70-80 | 60-80 |
| Printable with Glass Plate | YES | YES | ! (with glue stick) | ! (with glue stick) | ! (with glue stick) | YES | YES | ! (with glue stick) |
| Printable with PEI Sheet | YES | YES | / | ! (with glue stick) | ! (with glue stick) | YES | YES | / |
| Print in Enclosed Chamber | / | / | / | YES (recommend) | YES (recommend) | / | / | / |
| Print with Hardened Nozzle | / | / | YES | / | / | / | / | YES |
| Dryer Box | / | / | YES | / | / | / | / | YES |
Flashforge Filaments Key Features
| Key Features | PLA | PLA Pro | PLA-CF10 | ABS | ABS Pro | PETG | PETG PRO | PETG-CF10 |
| --- | --- | --- | --- | --- | --- | --- | --- | --- |
| Filament Type | Standard | Standard | Carbon fiber filament | Standard | Standard | Standard | Standard | Carbon fiber filament |
| Food Safe | YES | YES | / | / | / | YES | YES | / |
| Low Warping | YES | YES | YES | / | / | YES | YES | YES |
| High Tenacity | YES | YES | YES | / | / | YES | YES | YES |
| Dissolvable | / | / | / | YES | YES | / | / | / |
| Chemical Resistance | / | / | / | / | / | YES | YES | / |